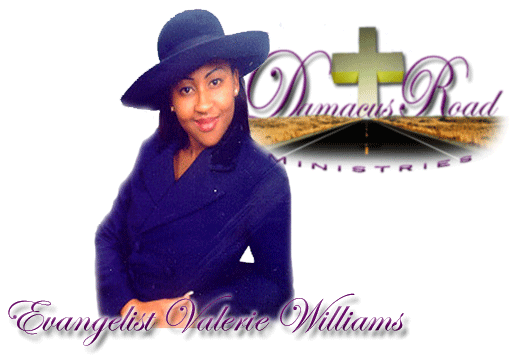 Valarie Marie Williams was born to the parents of Errol Williams (deceased) and Rita Smith in Oakland, Ca. October 1972. Having the benefit of her father's mother who raised her Catholic and her mom's mother and grandmother who were Missionaries at Lily of the Valley COGIC, she was blessed by anointed women who covered, taught and prayed for her. She graduated from Skyline High in Oakland then attended Culinary Arts School at CCSF in San Francisco and Delgado in New Orleans where she earned a background in Culinary Arts/ Hotel Restaurant Management. Valarie was blessed to work in Culinary as a Garde Manger Chef for the New Orleans Hilton and La Madeleine French Cafe, both in the famed French Quarter. She continued to cook professional in New Orleans for 5 years specializing in the Decorative Expressions including Ice/Fruit Carvings, Pastries and Candies. In 2010 Valarie graduated from Ohio Dominican University in Columbus, Ohio with a degree in Business Administration and in 2012, she gave the keynote senior address when she received her Bachelors of Science in Business Management. (see address here
www.youtube.com/watch?v=HW9obWidpSc
)
Valarie accepted her calling to ministry in New Orleans under the leadership of Pastor Ona V. Brown of Elijah Rock Ministies. There she actively pasticipated in Praise & Worship, was ordained and placed over the Young Woman's Ministry. She continued growing in ministry gifts as the Adjutant/Assistant to Pastor Brown. Accepting a higher calling from God, she relocated her family back to Oakland and submitted herself to "the Lily" which was renamed Lily of the Valley Christian Center.
Under the dynamic 5 Fold Ministry and Leadership of Bishop Anthony Lynn Willis, God confirmed that the Lily was where she would be transformed and perfected in her office gifts. God was beginning to prepare her for the oracle and purpose for kingdom work. Being anointed with the gift of administration she took on the responsibilities as Director over the Division of Public Relations at the Lily, a writer for the Lily Newsletter, a Minister on the Lily Travel Ministry Team and assisted Bishop Willis with all Travel and Transportation Services for the Church guests and members. Valarie was licensed as a Missionary and Jurisdictional Adjutant to Bishop Donald Murray in 2001 when Lily of the Valley was under California North Central COGIC.
At age 50, she is the proud 7mother of Corey Sapp, Jr. (32yrs) and Khairie Williams (26yrs) and the grandmother of 3 grandchildren.
Elder Williams is the Founder of Damascus Road Ministries and the owner of My Little Bites of Heaven Catering in Reynoldsburg, Ohio. She is the Former Owner of Damascus Road Daycare (Whitehall, OH) and Wings of Love Transportation Services (Oakland, CA). For her dedication and work within the youth community in Oakland, CA she was awarded the 2001 Standford University GEMS grant to provide transportation and mentoring services for many under-privileged children in the Oakland Bay Area, Elder williams continues to strive towards reaching our lost by volunteering with organizations that support homelessness, hunger and evangelism outreach.
In 2003, Minister Williams relocated her family to Columbus, Ohio where she was worked and served in various capacities of business. Although she has ministered in Ohio, California, Louisiana, Virginia, and Indiana, she still believes her greatest work takes place in the city she has come to call home.
She currently works for the Columbus Regional Airport Authority and serves as an Elder and Board Member at Greater Glory Empowerment Temple in Columbus, Ohio. She was ordained an Elder In July 2014.
From teaching bible classes to low income residents at Canonby Court and Post Oak Apartments from 2006-2008, to participating in conferences, workshops and in-house ministry within her local assembly, she remains a strong and effective spiritual leader to the people of God and strives to walk with integrity and grace. She is an inspiring author (currently working on the first of a three book trilogy entitled Worthy!,The Three Day Journey and Confessions of the Heart. With messages like: "I've got to Die in order to shift" https://youtu.be/lllcwLmoqsl , "God Help Me... I can't Unring this Bell" https://youtu.be/gkdRON3D0pQ and "Are You Impersonating An Eagle?" https://youtu.be/sl1Yh_9c8dg she God is moving mightly in her ministry.
Though Damascus Road, God is allowing her to live out purpose while dedicating her life to ministry for the spreading of the Gospel of Jesus Christ. She thanks you for your continued support and prayers as she strives to walk worthy before the Lord.