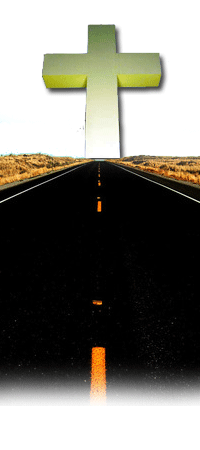 This page is dedicated to the unseen leaders in ministry. Those who have dedicated their lives to spreading the word of God, so that God may open the door for their ministry to be exposed to others in Christ.

To submit your information for consideration on Roadways to the Light, you may email the details to
damascusrd_min@yahoo.com
or mail it in care of
Damascus Road Ministries
PO Box 361893
Columbus, Ohio 43236-1893



Damascus Road Ministry spotlights a wonderful activist for breast cancer Mrs. Lori Boyd, creator of a fragrance "Not My Own" benefiting the Stefanie Spielman Fund for Breast Cancer Research. Lori Anderson Boyd

reminded me of an important note: proceeds go to Patient Care Assistance to fund grocery bills, wigs, daycare, and underinsured to just name a few!! So please check the website out and invest in their efforts.

Lori Boyd, owner of Body 360, is a licensed Managing Aesthetician and Certified Personal Trainer. Her passion for making a difference began early in her esthetics career, as she entered the plastic surgery field and involvement in the Look Good Feel Better program. After working with several breast cancer patients and seeing how brave and strong they were, her admiration for them and new found devotion to fighting cancer became paramount. Their fight became not their own! She found that her talents and experience could help these women in many ways, such as teaching them the placement of eyebrows with makeup to the finishing touch of areola restoration.

Through her efforts to assist cancer patients, Lori said, "There is nothing that has touched my heart more than to have helped a women feel like a whole woman again." Her additional inspiration to help people in need comes from her loving family, Lila, Lincoln, and her husband, Geoff. Lori believes that life can take you down unexpected paths, but one should never lose faith and must continue to fight, continue to fight, continue to fight!

For the Month of April we spotlighted an interview with Ohio native and CEO of Reelphat Media Group, Mr. E. Jospeh "Jody" Daniels. Having been successful as a musician, producer and writer for artist in Hip Hop, R & B, Gospel, Jazz and Rap, he is currently fostering the projects of 6 artist on his label. Here's what we discussed.




DRM: How would you define your ministry calling and why do you feel God chose you for it?




Jody: "To be quite honest, I would describe my ministry as being totally unconventional. Despite being in the church all my life, I don't necessarily write songs for those who have been in church the balance of their lives. I tend to write for those who are borderline or, may be looking for something and they aren't sure what they're after. As for why God chose me? I don't know why He decided to give me the gift of playing multiple instruments, producing, writing, engineering, etc. but, I humbly and gratefully accept what He has for me to do."




DRM: How many artist are you currently helping to develop?




Jody: "Currently there are 6 recording professionals on my label. Most of them were already developed before I met them, which makes our union a fantastic experience. I get the privilege of helping them go higher in their craft."




DRM: Where would you like to see your ministry go and grow to?




Jody: "I'm not a presumptuous person as it pertains to God. Personally, I'd like to see my ministry be a global entity but, I'm content for it to be whatever God intends for it to be. It's still evolving so, we'll see where it leads!"




DRM: Finish this statement: "If I knew then what I know now...."




Jody: "...I probably wouldn't have a healthy respect for what I have now. More than likely, I'd abuse my gifts, rather than nurture them.




DRM: How would you define your family status and what's on the horizon on the home front?




Jody: "My family status is fantastic. I have a wonderful 11 year old son that is the joy of my life. I work as hard as I do for his future. Outside of him, I have a wonderful and supportive mother & father, 8 sisters, a brother, an adoptive mother and many incredible friends. Not many can claim having more than one or two incredible friends. I have a throng of them! As for the horizon of my personal life, I just want to grow more into the man that God intended for me to be. I'm certainly not perfect but, I'm working on that daily."




DRM: Last question: What would you like the Damascus Road readers to now about you and your ministry?




Jody: "I want them to know that, we strive to make sure they can see themselves in our ministry. From having a bad day at work to being glad you're saved, we don't ever want to present ourselves as being above their issues, concerns, experiences and position in the body of Christ."




For additional information on Mr. Daniels and the artist of Reelphat Media Group, please access the following links and reach out to support on of our own Christian soldiers spreading the gift of Christ through music.
The inspiration for Words to Life Drama Ministry is the Word of God. God's clearest, most profound and accessible message was Jesus who came in the form of human flesh, bone and blood and lived among us. Jesus brought us more than truth; He delivered us from death by God's grace. The Words to Life Drama Ministry accepts the truth of Jesus and His message and strives to effectively imitate Him by bringing the message of His Word to life through original gospel-centered dramatic productions.

The Ministry is engaged in

The creation of original work;
The ongoing discovery of a theatrical ministry in which the spiritual dynamics of image, movement and space are as important as the text;
Touring selected works nationally and internationally;
Offering educational programs that inspire students of all ages to discover their own creative expression, contribute to serious training in the field and demonstrate the power of theatre as a community building tool

Words to Life Drama Ministry is a not-for-profit producing and presenting organization, which fosters interdenominational, intercultural and community collaborations. Additionally, WTLD Ministry is a unique style of theater that is committed to producing plays and programs that mirror contemporary realities, uphold Christian values, offer creativity, and promote education in the arts, and to serve as a training ground for undiscovered talent and artists. The focus of our presenting season is original work by WTLD and other innovative solo artists.

M Darlene Carson was born in Beckley, WV and it was there that she gave her life to the Lord for Kingdom purpose. She is an ordained elder and serves at Grace New Covenant Apostolic Church under the ministry leadership of Elder Gregory L. Fly. A gifted writer and Producer/Director/Playwright of Words to Life Drama Ministry; she has penned and produced a dynamic and inspirational body of work that has encouraged congregations and audiences throughout the local and statewide community.

Are you imprisoned in a marriage of verbal assault and felonious neglect? Has the fear of failure and opinions of others held you hostage? Determined to break free of the strongholds that held him captive, J. K. apprehended inner peace and received a pardon from the Lord.

In Life After a Painful Divorce (LAPD), Jonathan Sanders exposes the feelings, fears and inner turmoil that pursued him during his divorce. Without blame or accusation, he delves into a man's perspective on the transition from hurt to healing. Grounded in biblical hope that transcends gender, Sanders reassures you that your life is just beginning.

You've been served! After reading this book, you will learn God's forgiveness applies to the divorced. Practical techniques and spiritual revelations to flourish after divorce. You deserve happiness, hope and complete wholeness.




For additional information visit:

click here to go directly to Elder Jonathan Sanders Ministry website

Victorious Models Production Company is an Oakland, California based organization that was formed in January 2002, specifically for the purpose of bringing the true and living Word of God to all people through the art of modeling. Our emphasis is fashion globally and assisting profit and non-profit organizations with their financial needs.

Victorious Models Production Company started because Christian Organizations did not have a showcase they could offer or attend whereby fashion coupled with the Word of God was displayed underneath one roof. We are not just a business interested in making profits, but a business that delivers a message from a prophet. Not just any type of message but a profound message from a prophetic view. Not only are we bringing a message that can deliver people, but also a message that people can deliver.

The Founder and CEO Bernice Johnson is an outstanding and creative Woman of God! She carries herself with the Spirit of Excellence, Integrity and moves in Love and Compassion towards all she comes in contact with. With over 15 years experience in the Modeling and Fashion Industry, this entrepreneur has an outstanding vision for men, women and children through a devine oracle from God.

Victorious Models Production Company offers instructional teaching in the arenas of modeling, acting, improving self image, increasing self-esteem and cultivating confidence through the Word of God. The curriculum is Biblically Based and Spiritually Inspired. Bernice Johnson has a wonderful Boutique located in the City of Oakland offering both men and women's fashions, upscale attire, gift baskets, makeup, purses, shoes and accessories for every event.



Victorious Models Production Company, Inc.
Bernice Johnson- President/CEO
3815 Mac Arthur Blvd
Oakland, CA 94619
510-869-4111 or 510-482-3274

BERNICE JOHNSON
Evangelist
Founder - VMPC
Proprietor - First Class Boutique